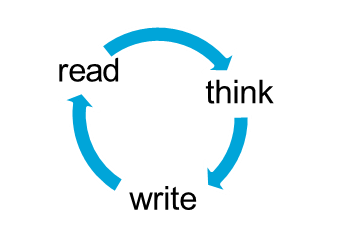 Reading, Writing, and Critical Thinking
The act of reading is an interaction between author and reader. Close, thoughtful reading therefore, is intended to go beyond merely learning to an engagement with author and his ideas. A student who thoughtfully engages with the written word is equipped to do so with God's Word, His special revelation. A student who interacts thoughtfully with the text, and thinks critically, and expresses that thinking in writing, is equipped not only to interact with God's Word, but to explore His general revelation – His world. A Rivendell student who can read, write, and think critically is equipped to find his or her place of redemptive engagement in God's world.
At Rivendell, literacy is a process essentially about "exploring God's world and discovering our place in it." We define it as:
an interactive process between reader and text involving the ability to understand and use written language and to derive or construct meaning from a text for the purposes of discovering, learning, participating in the learning community of the school, for enjoyment, and for pursuing Truth.
Reading
Through individually targeted phonics, guided reading, and a focus on comprehension strategies, our reading program is designed to move students from mastery of the surface skills of decoding and fluency to a deep, rich interaction with the text and a critical engagement with the ideas.
Writing
Writing is a way of expressing understanding and connecting the mental dots of our ideas. Therefore at Rivendell, students are introduced to writing in the very first days of Kindergarten, connecting ideas to words. As students progress through Rivendell, we teach a variety of writing genres and strategies, but our primary focus is the response paragraph/paper which is designed to elicit both curiosity and discipline in the context of written ideas.